Welcome to Project Romania, Chard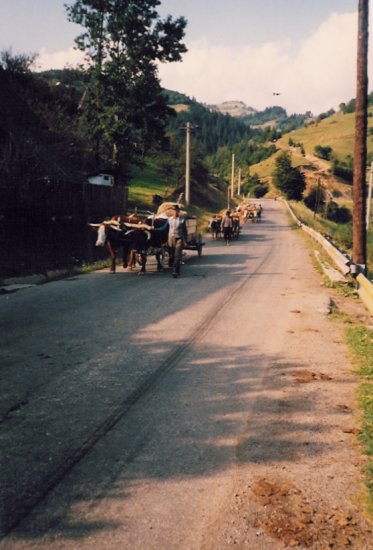 Recent News
April trip to Seica Mare, 25th Anniversary plans, visit from Seica Mare to Chard, other future events, all in...
...Spring 2016 Newsletter
Romania
A land of wild beauty, strange sights and tremendous potential.
A land wounded by greed and a corrupt system, and whose people have been demoralised by dictatorship and extreme poverty... yet ...
... Romania is a wonderful country to visit, with a rich cultural heritage and friendly, hospitable people – despite the fact that, even in 2014, they have so little.
Project Romania
Project Romania is a registered charity, (No. 1042512), and was set up in 1994 by CHARD CHURCHES TOGETHER.
The trustees are drawn from the 8 local churches, but the Charity touches many people in many other areas of the United Kingdom.
The main aim of the Charity is to share the love if God in the commune of Seica Mare, Transylvania, and this is achieved by
helping the children and the poorest and most vulnerable in the community with health needs.
encouraging educational schemes and cultural pursuits such as traditional dance and music.
responding financially when needed.
encouraging members of the commune to get work and take responsibility for their families.
The charity's work has expanded over the past twenty years, and many different aid programmes have been developed in 5 of the villages of the commune; Seica Mare, Calvasser, Boarta, Stenea and Buia.
Where children have a need, whether it is for food, health or just somewhere warm to do Homework, Project Romania has been there to help.
In 2005 the beautiful community centre – named by the Romanians, the Rainbow Centre of Hope – was opened by the Charity's Patron, Graham Watson MEP. This is already in daily use and currently in 2014 there are plans for extending the building and making it a fully functional residential centre as well as a place for villagers to meet and have fun.
In 2008 a group from the commune came to Chard for the official twinning ceremony - including the mayor and his deputy, Florin Benghea (the charity manager in Romania). The adults in the group represented the whole community, and a team of 34 children danced traditional dances for the schools and people of Chard. Their visit was an out-standing success.
Now, after more than 20 years, we know the way ahead will be different but it will be exciting. We are looking to God to lead - and to reveal His plans for all involved with Project Romania, both in the UK and in the commune of Seica Mare.

Do browse the site and see more.